Hurricane and Tropical Storm Predictions
Accuracy by Organizations
Pre-Season
Accuracy by Organization
2009-2017
2016 and 2017 Hurricane Seasons by GWO: How GWO Performed
Correctly Predicted: 2017 Would be the Most Expensive and Dangerous
Hurricane Season Since 2005
Correctly Predicted: 2017 would have 8 hurricane and 4 major hurricanes
Correctly Predicted: 6 named storm landfalls for the United States during the
2017 season
Correctly Predicted: in 2017 Florida would break out of their 12-Year
Hurricane Drought
Correctly Predicted: In 2017 Texas would break out of their 9-Year
Hurricane Drought
Correctly Predicted: Major Impact Hurricane for Florida in 2017
Correctly Predicted: Atlantic Coast Hurricane Hugger Mathew 9 Months in
Advance
Prediction was Released in January for Daytona to Georgia
and North Carolina
Correctly Predicted: 2 to 3 Hurricanes would make landfall in 2016 - and in
which zones
Correctly Predicted: Category 1 Hurricane landfall for Zone 9 (Upper Gulf) in
early September with Tropical Storm conditions
into Zones 8-5-4-3 (Georgia to the Carolina's)
and a scare for New Jersey and Southern New England
GWO Also Predicted Correctly 1 to 3 Years in Advance
2016 Predicted: 17 named storms - 9 hurricanes - 4 major - at least 2 U.S. landfalls
Actual: 15 named storms - 7 hurricanes - 4 major - 2 U.S. landfalls
2015 Predicted: 10 named storms - 5 hurricanes - at least 2 U.S landfalls
Actual: 11 named storms - 4 hurricanes - 2 U.S. landfalls
2014 Predicted Coastal Hugger "Arthur" 6 months in advance
2014 Predicted "Typhoon Rammasun" Manila, Philippines
2014 Predicted that "No" El Nino would occur during the 2014 hurricane/typhoon season
2013 Only organization to predict a weak 2013 hurricane season
2012 Hybrid Hurricane Sandy .. strongest cycle in 50 to 110 years
2012 Hurricane Issac
2011 the Great Mississippi River Flood
2011 Hurricane Irene ... strongest cycle in 50 to 110 years
2009 El Nino year- No Hurricane Strikes
2008 Hurricane Ike
Pre-Season Hurricane Prediction Accuracy
Comparisons by Organization
2009-2017
GWO the most Accurate 2009 through 2017
GWO's 11 Prediction Zones
Zone Predictions below
2016 and 2017 Predictions
Named Storms - Hurricanes
Pre-Season
Accuracy by Organization
2009-2016
2015 Predictions by Organization 2014 predictions by Organization 2013 by Organization
click image to enlarge click image to enlarge click image to enlarge
2015 GWO Prediction 2009 - 2016 El Nino Predictions 2012 GWO Hot Spot Predictions 2011 GWO Hot Spot
click image to enlarge click image to enlarge click image to enlarge click image to enlarge
GWO 's hurricane predictions are issued in January, this is the "only scheduled release date".
The predictions are for the next 1 to 4 hurricane seasons and include: risk probabilities for either hurricane or tropical
storm conditions within the zone, risk probability for major hurricane conditions within the zone, a complete discussion on the
Climate Pulse Technology (patent pending) cycles for each zone. Hot zone accuracy has been near 90% since 2006.
Predictions are primarily for entities requiring planning for extreme events such as hurricanes. GWO's clients include
large box retail government agencies - disaster preparedness groups -energy companies, and some small interest
parties. ​ Further information is available via Webinars (see weekly webinar registration above)
Advantages of Early Prediction Release Dates and 4-Year Predictions:​
​GWO's 4 year proven accurate predictions are released in December prior to the upcoming hurricane season.
This allows lead time for not only the upcoming hurricane season, but also planning purposes for the next 3 hurricane
seasons, in time for contract negotiations October-December 2013 and a full 9 months in advance of the 2014 season.
If your company plans to increase or decrease insurance coverage in new or existing locations, the 4 year prediction
period would be of great value.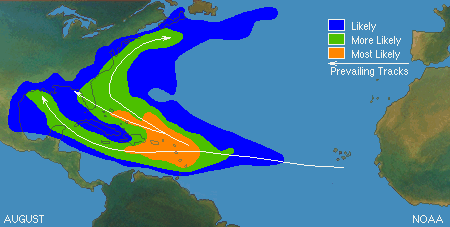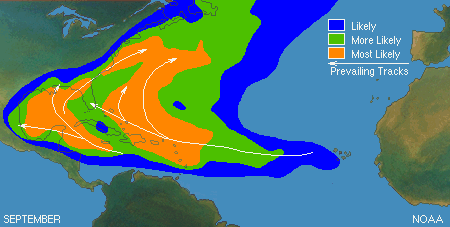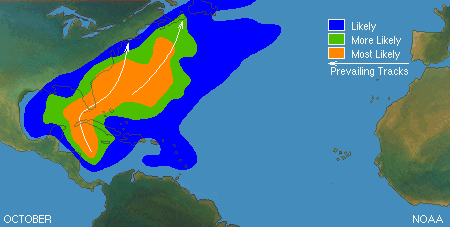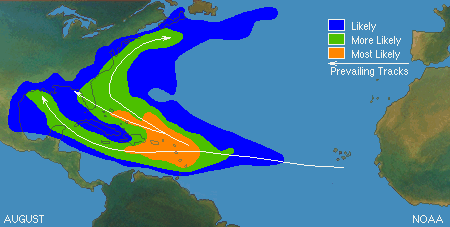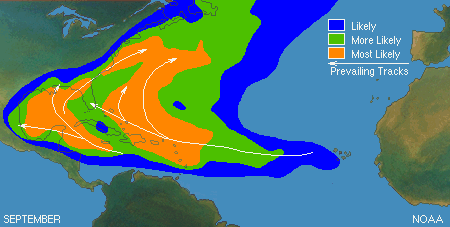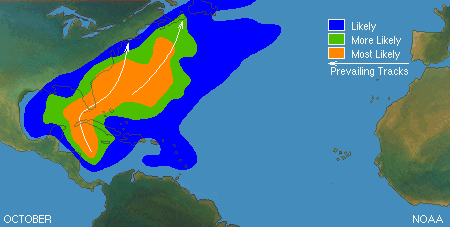 Events Predicted
1 to 3 Years in Advance
Hurricane Climatology
by Month